Commercial Property to Let in the West Midlands
Stephens McBride West Midlands Letting Specialists
Stephens McBride is a Commercial Property Consultancy based in Solihull, which serves the entire West Midlands region. Whether you are looking to let a property or find a property to let SMB can help across the entire West Midlands.
SMB Service for Landlords
For Landlords a fully managed service or let only are bother available options, consult with our Property Management Consultants for the best approach for you. Occasionally SMB may be able to sell your property (as opposed to let) and if this applies in your case we'd let you know the type of offer available for a sale. Finding the "right type" of Tenant can be a challenge, so SMB have a process in place to ensure credit worthiness and suitability of use for your property.
SMB Service for Tenants
For Tenants SMB provide an expert sourcing service, the better defined the tenant requirement is the more likely SMB are to find the perfect property in the perfect area for you. SMB Property Consultants will create a thorough itinerary of the client requirement and then execute a property search on the client's behalf. In cases where the Landlord has responsibility for repairs, SMB will manage the process on behalf of the client and supervise the repairs through to a satisfactory conclusion.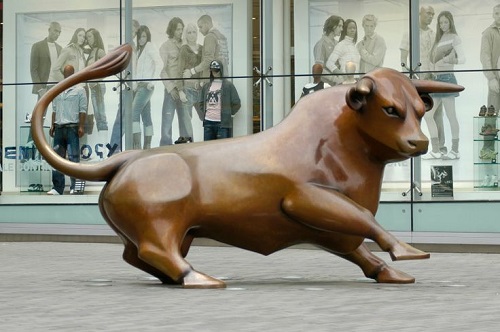 The iconic Bull at Birmingham's Bull Ring Centre
Commercial Property Types Available
Stephens McBride can provide a large variety of commercial properties; some examples are below, but call today with your specific property requirement:
Industrial Properties – Warehouses, Garages, Factories, etc.




Land for Development – A range of greenfield and brownfield development opportunities, sometimes with planning consent




Office Buildings – A range of offices including serviced and non-serviced options




Retail Shops – A variety of shops, stores and shopping mall premises




Restaurants – Various food premises including restaurants and cafes




Others - A wide choice of other commercial properties including hotels, leisure facilities, public houses, etc.



Commercial Properties Available Now
This completes our quick to guide to finding a commercial property to let in the West Midlands. To view our list of available related properties, visit:
http://smbsurveyors.com/properties/search?type=&location=4&tenure=2&size=. If you'd prefer to try your own search visit our property search page and enter your required parameters.
Contact us on either 0121 706 7766 or by completing our Contact Form at http://smbsurveyors.com/contact, our expert Property Advisors will able to tailor a solution for your property brief. Call us today to start the process.
Image Credit: Sharifah Hipknotique